The new documentary "What The Health" is a must-see and uncovers one of the largest and darkest health secrets of our time.
It explores the corruption and collusion between the food industry, government, pharmaceutical companies and health organisations.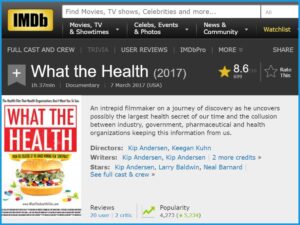 A brief warning to those considering watching this: What The Health is a paradigm-shifting documentary, so expect a gut-wrenching experience where you are likely to resist many of the ideas presented by this film.
Come with an open mind. If you find yourself doubting or questioning claims or ideas put forth in this movie, do your own further investigation into those matters, rather than just dismissing them.
What The Health scores an impressive 8.6 rating on IMDB at the time of writing this. The negative reviewers there did not watch the full documentary. I wouldn't be surprised if a lot of the negative reviews had been sponsored by the meat industry.
I highly recommend.
Links to watch below:
What The Health: http://www.whatthehealthfilm.com
Vimeo: https://vimeo.com/ondemand/whatthehealth
Netflix: https://www.netflix.com/gb/title/80174177